Item request has been placed!
×
Item request cannot be made.
×

Processing Request
The 2017 monthly Breads of the World series offered demonstrations of how to make bread from a different part of the world.
The 12 Breads program handouts are gathered this 29-page document, where you'll find recipes from the programs below:
Jan 17: India, paratha and chapati
Feb 21: Ireland, soda bread
Mar 21: Israel, challah
Apr 18: Mexico, tortilla
May 16: Italy, pizza dough
Jun 20: Ethiopia, injera
Jul 18: England, Cornish saffron bread
Aug 15: Germany, soft pretzel
Sep 19: US, sourdough
Oct 17: Mexico, pan de muertos
Nov 21: Italy, ciabatta
Dec 19: Denmark, aebleskiver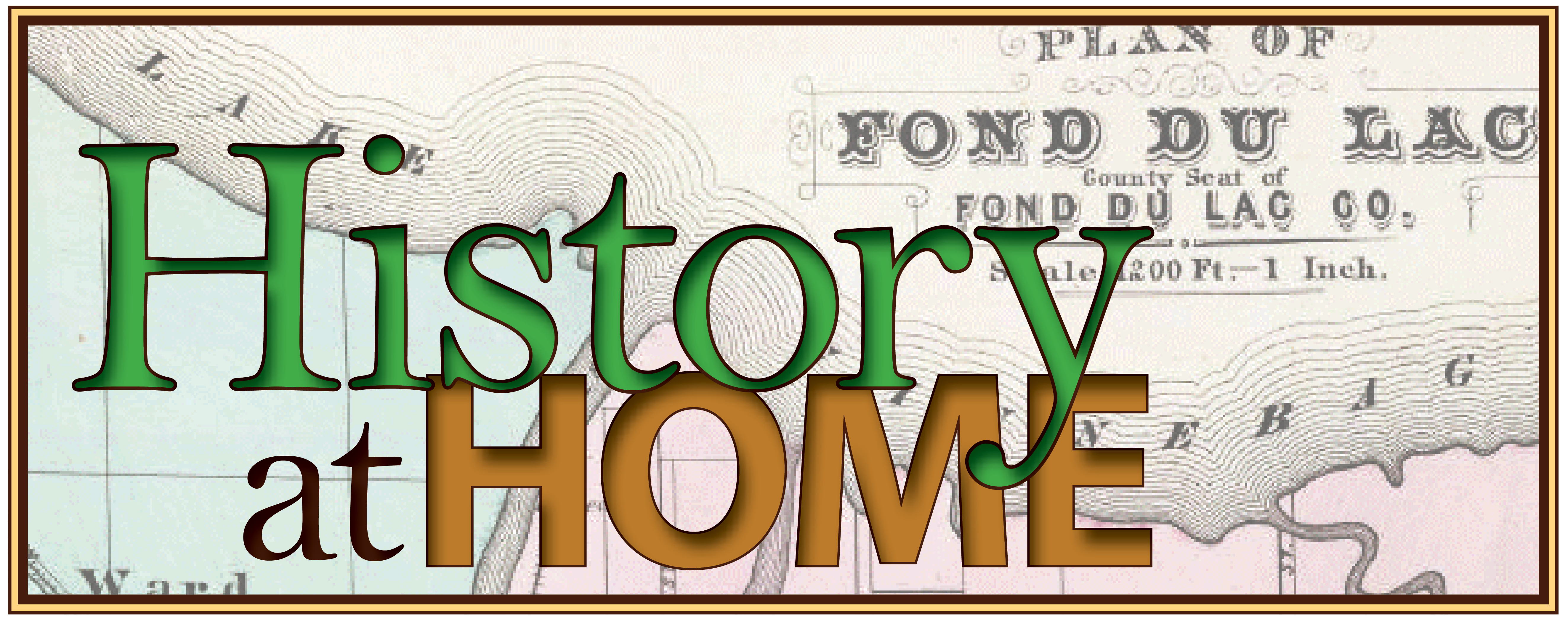 Fond du Lac Public Library's monthly History at Home programs focus on local and state history. Many are captured on video and available on the library's YouTube channel.
The series began in October 2013 and has run monthly since (skipping Decembers). The programs so far:
2013:
Oct 17: Wisconsin Death Trip, presented by Terri Fleming
Nov 21: Christmas on Main Street, presented by Mary Leb
2014:
Jan 16: People of the Sturgeon, presented by Kathy Kline
Feb 20: African Americans in FDL, presented by Sally Powers-Albertz
Mar 20: The Wide Awakes & the Election of 1860, presented by Andrew Lang
Apr 17: 80 Acres & the Founding of FDL, presented by Tracy Reinhardt
May 15: History of Memorial Day, presented by Wayne King
Jun 19: How Cows Created Wisconsin, presented by Ed Janus
Jul 17: FDL's Forgotten Pipeman, presented by Sally Powers-Albertz
Aug 21: Wheel Fever: How Wisconsin Became a Great Bicycling State, presented by Nicholas Hoffman
Sep 18: Yellowstone Trail, presented by Mark Mowbray
Oct 16: Brothertown Nation, presented by Patty Loew
Nov 20: Christmas on Main Street, presented by Mary Leb
2015:
Jan 15: Getting to Know the Stockbridge Mohicans, presented by Jeff Siemers
Feb 19: Fond du Lac's Grand Manner, presented by Terry Gaffney
Mar 19: Fond du Lac Children's Home, presented by Sally Powers-Albertz
Apr 16: History of Wisconsin Supper Clubs, presented by Ron Faiola
May 21: Bottoms Up: A Toast to Wisconsin's Historic Bars & Breweries, presented by FDL Historic Preservation Commission
Jun 18: History of The Little Farmer, presented by Theresa Mayer
Jul 16: Following in Their Footsteps: Local WWI Soldiers in Europe, presented by Wayne King and Maureen Betz
Aug 20: Moonshining and Bootlegging in the Holy Land, presented by J.J. Jenkins
Sep 17: Railroading in Early Fond du Lac, presented by Tracy Reinhardt
Oct 15: Houdini, presented by Emily Rock
Nov 19: Cathedral Mice of St. Paul's, presented by Ruth Du Frane
2016:
Jan 21: Why We Love the Packers, presented by Jim Rice
Feb 18: Alaska Gold Rush, presented by Teri Mayer and the Rev. Edward Sippel
Mar 17: The Irish of FDL, presented by Tracy Reinhardt
Apr 21: History of the Oakfield Brickyards, presented by Al Messner
May 19: Lakeside Park Through Langdon's Eyes, presented by Tracy Reinhardt
Jun 16: Bootlegging and Moonshining in the Holyland, presented by J.J. Jenkins
Jul 21: Prelude to War, presented by Wayne King
Aug 18: Murder & Mayhem in 1800s FDL County, presented by Sally Powers-Albertz
Sep 15: The Boys of Company E, presented by Dave Wege
Oct 20: History of Deer Hunting, presented by Bob Willging
Nov 17: Christmas Landmark Ornaments: 21 Years of History, presented by Soroptimists of FDL
2017:
Jan 19: Beer Hut and Outdoor Theater, presented by Pam Minsch and Kim Patt
Feb 16: FDL Picture Show: We Love a Parade, presented by Tracy Reinhardt
Mar 16: Women's History Month: Electa Quinney, a Stockbridge Indian who was Wisconsin's first professional teacher, presented by Karyn Saemann
Apr 20: FDL Children's Home, presented by Sally Powers-Albertz
May 18: FDL Picture Show: Fires & Firefighting, presented by Tracy Reinhardt
Jun 15: Hickory: The Lost Legacy, presented by Kevin DeCramer
Jul 20: History of Wade House, presented by Jim Willaert
Aug 17: FDL Picture Show: Church & School, presented by Tracy Reinhardt
Sep 21: FDL Mayor Dodd: Traitor?, presented by Sally Powers-Albertz
Oct 19: WI Food Traditions, presented by Terese Allen
Nov 16: FDL Picture Show: Let's Go Downtown, presented by Tracy Reinhardt
2018:
Jan 18: Germans in Wisconsin, presented by Mark Louden
Feb 15: Lakeside Park: A Fond du Lac Treasure, presented by Tracy Reinhardt
Mar 15: Women's History Month: It All Started on Kelley Road, presented by Karen Kelley
Apr 19: Following the Train Tracks, presented by Tracy Reinhardt
May 17: 40 Years of Walleye Weekend, presented by Tracy Reinhardt (Terri)
Jun 21: For the Love of Cheeses, presented by Dean Sommer
Jul 19: History of Peebles, presented by Jason Kroll
Aug 16: Fond du Lac & the KKK at the Turn of the Century, presented by Sally Powers-Albertz
Sep 20: The Night the Churches Burned, presented by Tracy Reinhardt
Oct 18: The Long Road Home from World War I, presented by Wayne King
Nov 15: If Stones Could Talk: FDL History from Tombstones, presented by Tracy Reinhardt
Take a tasty world tour with the 2018 Flavors of the World monthly series. Every third Tuesday of the month, local and regional foodies and experts will focus on a spice, flavor or herb (or two), tell their stories and demonstrate and share recipes in the Idea Studio. Flavors programs have handouts available:
Jan 16: Vanilla & Saffron, presented by Nathan Villa
Feb 20: Cinnamon, presented by Nathan Villa
Mar 20: Chocolate, presented by Gabriela Langholff
Apr 17: Coffee, presented by Josh Cowles
May 15: Oregano, presented by Pedro Arellano
Jun 19: Coriander/cilantro, presented by Anoush Cowles
Jul 17: Basil, presented by Kay Bastian
Aug 21: MSG, presented by Jon Mark Bolthouse
Sep 18: Mustard, presented by Barry Levenson
Oct 16: Sage, presented by Pedro Arellano
Nov 20: Curry powder & Garam masala, presented by Varsha Pathare
Dec 18: Soy sauce, presented by Dusty Krikau